biography…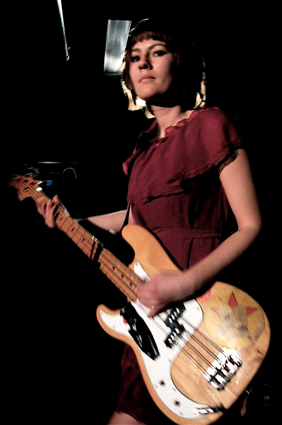 Prinzhorn Dance School is the musical moniker for Tobin Prinz and Suzi Horn. They work from a disused church in the UK where they make all of their music and visual art.
their debut album came out on the new york label dfa records, released in the UK by EMI. It prompted the british guardian newspaper to describe them as "the least commercially viable group ever signed to a major label."
Prinz and horn do make music that is sparse, original, uncompromising and idiosyncratic. But never for the sake of it.
"We take the sounds in our heads and record them. If people like it, great. If not, oh well." – Tobin Prinz
"the pds sound is so hard-boiled minimalist, there's no room for anything that doesn't work: every word, hi-hat, bass thump and wiry single-string guitar line becomes an event. And, damn it, Prinz and Horn own that shit." – OC Weekly
In 2011 the band released their second album "clay class" and continued to tour internationally, including their first american shows.
Although Prinz and Horn often appear to sidestep popular media, their profile is rapidly increasing. In 2008 their song "You Are The Space Invader" was used as the soundtrack to the HBO Cinemax trailer for the movie Transformers, while the Sunday Telegraph included Prinzhorn Dance School's debut album in a "best 120 albums of all time" list.
"It's hard to think of a band whose music gives a more thrillingly clear picture of what living in 21st century Britain is actually like than Prinzhorn Dance School." – Mojo
new album "home economics" out june 9th on DFA records